18 Killer Car Movies
18 Killer Car Movies you need to watch!
Cars can be scary, Disney's Cars is testament to this fact. OK, seriously car horror was big business in the 1980's and early 90's and this hooked onto the brat pack franchise was gold to the Movie execs. people were terrified of cars back then, cars were down right evil. Now of course the fact that people get mown down by cars every few seconds is part of everyday life, but a car that wants to run you over without the help of a drunk driver, and people are wearing bad fashions, well that's just plain terrifying.
So here are the top of the bunch of venomous vehicles, puckered 80's beauties & a few violent macho road movies for you to peruse at your leisure (feel the chills..is that the sound of a distant trucker horn)
1. Duel – This film is like Jaws on the road, one hulking great mean truck and one scared guy
2. The Road Warrior – Mel Gibson once again in the post-apocalyptic Australia, who helps a community kill some nasty people for a tank full of gas.
3. Death Race 2000 – This is about a lovely car race where points are awarded for running down pedestrians.
4. Wheels of Terror – A small town is terrorized by someone who kidnaps and abuses little girls, he drives an evil looking car.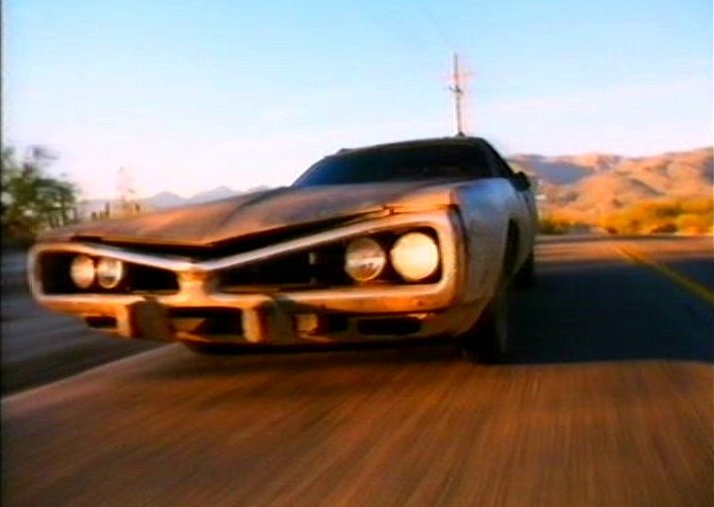 5. The Hearse – A women finds herself haunted by the same hearse that once carried her aunt's coffin
6. The Car – Evil has returned to earth as – "the car"
7. Maximum Overdrive – Stephen King in the trailer video is scarier than the film
8. Jeeper Creepers – Creepy scene with BEATNGU
9. Mad Max: Beyond Thunderdome – Mel Gibson is back again and this time he's pissing off Tina Turner
10. Christine – The heartwarming story of a blood thirsty car and a nerd. The 1958 Plymouth Fury from the movie John Carpenter's "Christine"
11. Death Proof – A psychotic ex stunt man uses his car to kill women, but some are about to fight back
The deadly 1970 Chevy Nova in Quentin Tarantino's "Death Proof" . 1970 Chevy Nova SS
12. Dead End – Frank Harrington decides to try a shortcut – he might not live to regret it
13. The Cars that Ate Paris – Car parts as currency. Best way to get car parts is, of course, to make cars crash so people in fictional town of Paris crash their cars a lot
14. Doomsday – A bunch of angry Scottish cannibal's have been locked up in Scotland due to a nasty virus, then some Londoners get in and they try to eat them. Oh and there's lots of cars.
15. Highwaymen – Since the hit-and-run murder of his wife five years ago, Rennie Cray has crisscrossed America in his souped-up, stripped-down '68 Plymouth Barracuda, pursuing her killer
16. The Wraith – Cool 80's tunes and Charlie Sheen
17. Black Cadillac – Three young men become terrorized in a high-speed car chase.. hell yaaaa
18. The Hitcher – A young C. Thomas Howell is stalked by a murderous Rutger Hauer, is edge of your seat road chase action
Guest blogger Geordie Girl got the idea of this killer car article after having to claim on her european travel insurance and european breakdown cover after being hit by another car on her way into Paris.